Pre-Workout N.O. Shox (660g/26trenni) X- Core USA
Tootja:
Tootekood:
151206120224
Saadavus:
Laos
Hind:
22.90€
Kogus pakendis: 0.66 Kg.
Ühikuhind:
34.70€
30.15€
Hinnavõit: 3.00€ (13%)
N O Shox on Xcore Nutritioni teadusliku meeskonna mitme aasta töö vili! See on lihtsalt efektiivseim treeningeelne toode turul N O Shox on ekstreemsete tulemuste saavutamiseks N O Shox viib su treeningud ja keha uude reaalsusesse. Tänu oma eksklusiivsele XSBT valemile defineerib N O Shox su jõu plahvatuslikkuse, fookuse ja vastupidavuse uuesti. Mõned lisandid tahavad, et midagi toimuks teised soovivad, et toimuks- N O Shox paneb selle toimuma. Xcore Nutritionit ei rahulda Tavalised või head tulemused, nad soovivad minna palju kaugemale! Ekstreemsete tulemuste saavutamiseks vajad ekstreemseid meetmeid ja N O Shox on ülim relv. Eksklusiivne XSBT Xtreme Shock Booster Technology valem on viimse milligrammini sünergias töötama pandud, et pakkuda sulle seda, mida pole ükski teine treeningeelne toode varem suutnud: kontrollimatut ja agressiivset treeningiha, maksimaalset fookust, eufooriat ja võitmatuse tunnet. See on vastus iga sportlase suurimatele nõudmistele. See valem on loodud 6 erineva koostisosaga, millest igaühel on spetsiifiline ülesanne teatud! Treeningfaasis XPVT Xtreme Pump and Volumizing!!! (((ETTEVAATUST TOODE GAASILINE SHEIKERIS)
Xtreme Measure
Xcore Nutrition N.O. Shox is the result of many years of research of the Xcore Nutritionscientific team. It is simply the most efficient pre-workout on the market: N.O. Shox, for extreme results.
N.O. Shox takes your training and your body to a new reality. Thanks to its exclusive formula, XSBT, N.O. Shox will redefine your limits of strength, explosion, focus, and endurance.
Some supplements want something to happen, N.O. Shox will make it happen.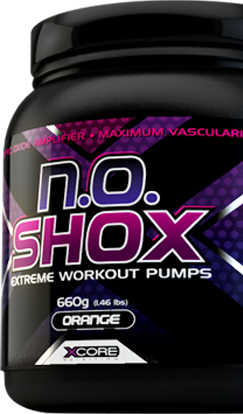 • XPVT® Xtreme Pump and Volumizing Technology


Creatine Monohydrate, Creatine Alpha-Ketoglutarate, Creatine Ethyl Ester HCl, Tri-Creatine Malate, L-Arginine Alpha-Ketoglutarate, and L-Arginine L-pyroglutamate
• Anabolic Growth Factors


L-Glutamine, L-Leucine, L-Isoleucine, L-Arginine HCl, and L-Valine
• XTRASORB™(Patent Pending) Rapid Absorption Compound


Betaine HCL, and Chromium
• Recovery and Endurance Complex


Beta-Alanine, L-Citrulline, L-Ornithine Alpha-Ketoglutarate, L-Tyrosine, modified Glucose Polymers (Maltodextrin)
• Explosive energy and Mental Focus Fusion / Lipolytic Action


D-Ribose, Ta
660 g
Servings size: 1 scoop(s) (30.0 g)
Servings Per Container: 26
Lemon
By 100g
Daily Quantity
%DV(*)
Energy Value

240.00 kcal = 1004 kJ

12%

Carbohydrates

43.67 g

14.56%

Sugars

4 g

**

Fibre

0.03 g

0.13%

Total Fat

0 g

0%

Saturated Fat

0 g

0%

Trans Fat

0 g

**

Protein

0 g

0%

Sodium

2333.33 mg

97.22%

Potassium

319.67 mg

9.13%

Vitamin A

970 mcg

121.25%

Vitamina E

14.67 mg

122.23%

Thiamin

1.33 mg

121.18%

Riboflavin

1 mg

71.43%

Niacin

19.33 mg

120.83%

Pantothenic Acid

7.33 mg

122.22%

Vitamin B6 – Pyridoxine

1.67 mg

119.07%

Biotin

60 mcg

120%

Vitamin B9 (Folic Acid)

243 mcg

121.50%

Vitamin B12 – Cyanocobalamin

3 mcg

120%

Vitamin C

66 mg

82.50%

Calcium

293.67 mg

36.71%

Magnesium

339.67 mg

90.58%

Phophorus

2.67 mg

0.38%

Iron

17 mcg

0.12%

Zinc

16.67 mg

166.67%

Copper

563 mcg

56.30%

Manganese

563 mcg

28.15%

Iodine

167 mcg

111.33%

Chromium

43 mcg

107.50%

Manganese

182.8ug

**

Selenium

33.67 mg

61212.73%

N.O Shox Proprietary Blend

24400 mg

Creatine Monohydrate

**

L-Glutamine

**

Creatine Alpha-Ketoglutarate

**

Creatine Ethyl Ester HCI

**

Tricreatine Malate (TCM)

**

D-Ribose

**

L-Arginine AKG

**

L-Arginine Pyroglutamate

**

L-Leucine

**

L-Isoleucine

**

Taurine

**

Beta-Alanine

**

L-Arginine HCI

**

L-Citruline

**

L-Ornithine Alpha-Ketoglutarate

**

L-Tyrosine

**

Betaine HCL

**

L-Valine

**

Methylxanthines (Caffeine)

**

Guarana Extract

**

Ginkgo Biloba Extract

**

Cinnamon Bark Powder Extract

**

* Percent Daily Values are based on a 2000 kcal or 8400 kJ diet. Your Daily Values may be higher or lower depending on your calorie needs.

** Daily Value not established.
Other Ingredients: Maltodextrin, Citric Acid, Natural and Artificial Flavors, Colorants (Anthocyanin), Sweeteners (Acesulfame-K, Sucralose, Sodium saccharine).
Directions: On Training Days- As a dietary supplement, mix 1 heaping scoop (30g) with approximately 10 oz. (300 ml) of cold water or other beverage of your choice, 30-45 minutes prior to your workout (on an empty stomach). To achieve maximum results, take on an empty stomach (i.e least 2 hours after a meal or 1 hour after drinking a protein shake). On Non-Training Days- As a dietary supplement, mix 1 heaping scoop (30g) with approximately 10 oz. (300 ml) of cold water or other beverage of your choice, and have it in the morning on an empty stomach.
Warnings: Before consuming this product, seek advice from a health care practitioner if you are unaware of you current health condition, or if you have any pre-existing medical condition including but not limited to: high or low blood pressure, cardiac arrhythmia, stroke, heart, liver, or thyroid disease, anxiety, depression, seizure disorder, psychiatric disease, diabetes, pernicious anemia, difficulty urinating due to prostate enlargement, or if you are taking MAO inhibitors, anticoagulants or any other medication. Do not use if you are contemplating pregnancy, if you are pregnant, nursing, prone to dehydration, or exposed to excessive heat. Each serving has roughly as much caffeine as 1.5 cups (150 mg) of coffee. Combining this product with alcohol may increase the risk of developing low blood pressure (hypotension) and/or low blood sugar (hypoclycemia). Please be aware this product contains the natural occurring amino acid Beta-Alanine, which may cause tingling skin sensation in some individuals similar to niacin flush. Although rare, individuals with the genetic disorder hyper Beta-Alaninemia should not use this product. Discontinue use two weeks prior to surgery. Strictly intended for use by healthy adults 18-50 years of age. Keep out of reach of children. Store in a dry place and avoid excessive heat. These statements have not been evaluated by the Food and Drug Administration. This product is not intended to diagnose, treat, cure, or prevent any disease.
Lisa arvamus
Nimi:
Kommentaar:
Märkus:

HTML kood ei ole lubatud!
Hinne:
Halb
Hea
Sisestage pildil nähtav kontrollkood: